Flooding at Don Harrington Discovery Center
6/6/2019 (Permalink)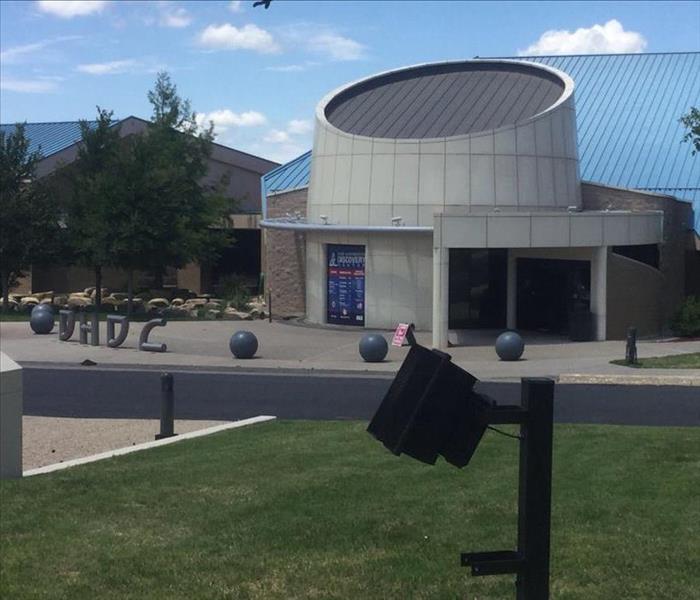 SERVPRO of West Amarillo was dispatched to the beloved Don Harrington Discovery Center located here in Amarillo, Texas this past weekend to aid in flood repair. Damage to a toilet in the men's bathroom caused nearly 2,900 gallons of water to flood the entire East Wing, requiring professional water mitigation services.
We were saddened to hear that not only did the Don Harrington Discovery Center have to go through the devastation of flooding in their facility, but they also had to cancel their fundraising camp, "Camp Iwanna."
Though saddened by the news of cancellations due to the flooding, we at SERVPRO of West Amarillo were also proud to be the first on the scene to aid in flood repairs and try to dry the structure as quickly as possible. We hope to build trust and relieve stress from those at the Don Harrington Discovery Center, as well as make this terrible accident "Like it never even happened."
We at SERVPRO of West Amarillo pride ourselves in doing all that we can to keep businesses at least partly operational during repairs, as we know the importance of maintaining business even in the face of disaster. We are proud to announce that, as stated in an article by Crystal Martinez of Myhighplains.com (link attached below), even though the east wing is undergoing repairs, the middle and west wing are still open and fully operational.
We at SERVPRO of West Amarillo have proudly served the entire Texas Panhandle and surrounding areas for nearly 15 years and would love to earn your business and trust. Call us today at (806) 331-4555 for any and all commercial needs.
Link: https://www.myhighplains.com/news/camp-iwanna-fundraiser-canceled-due-to-flooding-at-don-harrington-discovery-center/2052418636?utm_medium=social&utm_source=facebook_KAMR_Local_4_News