Amarillo Fireplace Cleaning and Restoration Services
10/11/2021 (Permalink)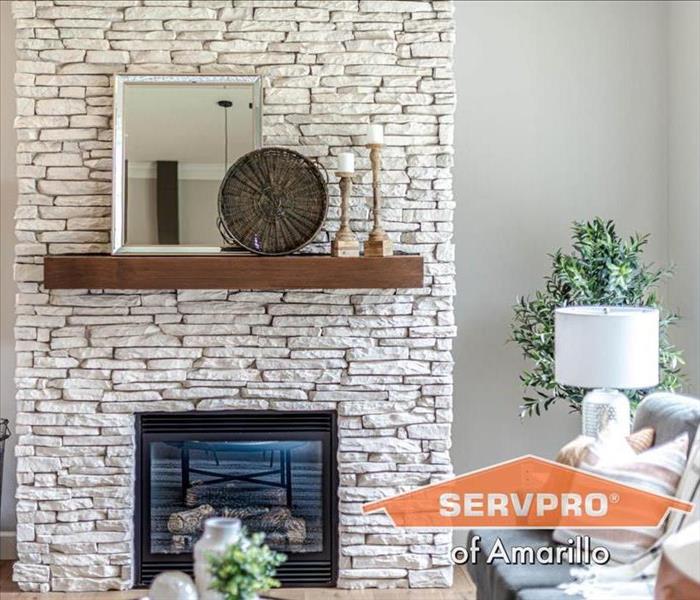 No matter how safely you use them, it's important to understand that fireplaces and chimneys can break down too.
At SERVPRO Amarillo, one of our jobs is to ensure that your fireplace continues to provide warmth and cozy comfort to your home to make it the lovely refuge you deserve. As a full-service restoration and cleaning company, SERVPRO provides you with chimney maintenance, inspection, repair, and cleaning solutions in Amarillo and across Texas.
No matter how safely you use them, it's important to understand that fireplaces and chimneys can break down too, especially if you live in an older house. We provide quick and reliable repair and restoration services to ensure that your fireplace and chimney are safe to use, well maintained, and primed to keep you warm for years.
Fireplace Cleaning is Critical for Safety and Fire Prevention
If you neglect your fireplace and don't get it cleaned or repaired, it can become a source of water damage, a shelter for animals, and a significant fire hazard.
The sparks that light up the fireplace are highly flammable creosote. Creosote is deposited throughout the chimney and liner. Without getting the chimney inspected, you can never guess the condition of it on the inside and how clogged with creosote it is.
It's important to get a thorough inspection done before starting renovations. Of course, you could call the local chimney sweep to do it. But they won't be able to tell you about the best and safest way to restore the fireplace.
That's why it's a good idea to call in our restoration specialists. Our experienced technicians recognize potential fireplace hazards and can fix them, keeping your fireplace in proper working order all year.
And in case your fireplace is badly deteriorated, you might need to replace the old one or install a new one. We can retrofit gas inserts and install new code-compliant gas fireplaces.
Call Us Today for Chimney Repairs and Cleaning
As Amarillo's best, our expert technicians are only a call away. They examine the interior of your chimney to rule out any potential threats and ensure that it's safe to use for the entire family. This is done using professional video inspection equipment that helps us look into the fireplace and sweep it carefully.
Go ahead and give us a call before winter gets here. The number is (806) 331-4555, and we're standing by to serve you.