SERVPRO of Amarillo's First Blanket and Towel Drive to Benefit Amarillo Animal Shelters
10/19/2021 (Permalink)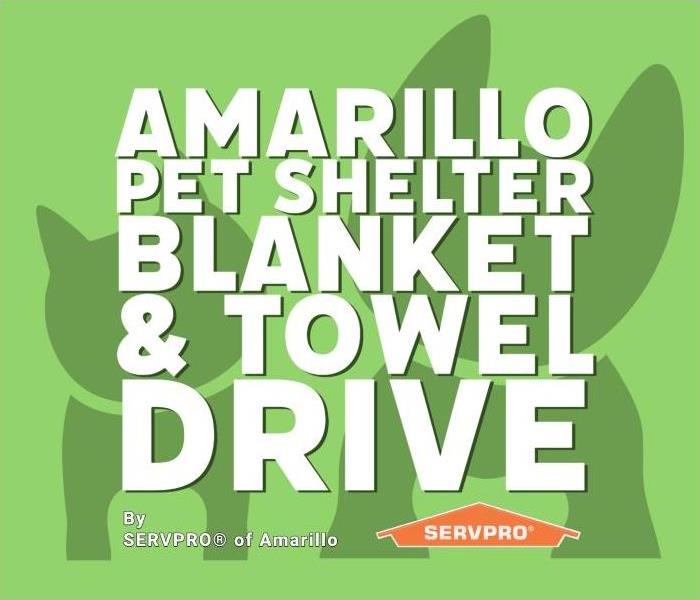 SERVPRO of Amarillo's Pet Shelter Blanket and Towel Drive will accept donations from October 23, 2021 to November 19, 2021.
Keeping our Furry Friends Safe and Warm this Winter.
SERVPRO of Amarillo is excited to announce that we have partnered with area groomers and pet stores to collect blankets and towels to help keep Amarillo shelter pets warm and comfortable.
Do you have gently worn blankets and towels that shelter pets can have?
November is just around the corner, and as the panhandle weather changes and cooler temperatures move in, our minds turn to gratitude. We are so incredibly grateful for our SERVPRO family and all of our customers. When we think of our Family, we think of our pets too. We here in the Texas panhandle love our pets!
To give back to the Amarillo area, we have resolved to help area animal shelters keep shelter pets safe and warm while they find their forever families.
Please consider donating new or used blankets and towels to any of our partner locations. We can accept:
Any color, fabric, and even size is acceptable--including the very bulky!
Where to Donate
Many Amarillo stores have graciously accepted a donation box in their business to help!
Donation boxes will be at these partner locations:
Doners may also drop off their items at our office directly:
SERVPRO of Amarillo
1301 SW 8th Ave, Amarillo, TX 79101
Office Hours: Monday - Friday 8:00 AM - 5:00 PM
Donations will be accepted starting October 23, 2021, and ending on November 19, 2021.
Donations will be Professionally Sanitized
SERVPRO technicians will pick up your donations and then professionally sanitize each one using the Esporta Wash System. This state-of-the-art textile restoration machine can clean items contaminated with just about anything--including sewage! To learn more about our textile restoration process, please read our blog.
SERVPRO of Amarillo is the only Esporta Certified Operator in the Texas Panhandle region. Our textile experts will make sure Amarillo pets have soft and very clean blankets and towels.
After sanitization, we will deliver all donations to Amarillo shelters, including:
SERVPRO is always Here to Help, and now we're extending our mission to keep our furry friends safe and warm this winter. Won't you help us?
For more information, please get in touch with us:
SERVPRO of Amarillo
(806) 331-4555
veronica@mbwserv.com
Thank You to our Partners
We want to thank our donation partners for their graciousness in accepting a donation box at their businesses. We love Amarillo! The generosity of our community humbles us every day. Please consider supporting Amarillo local businesses this holiday season and every day.