Most Common Problems Homeowners Face After a Storm
2/10/2022 (Permalink)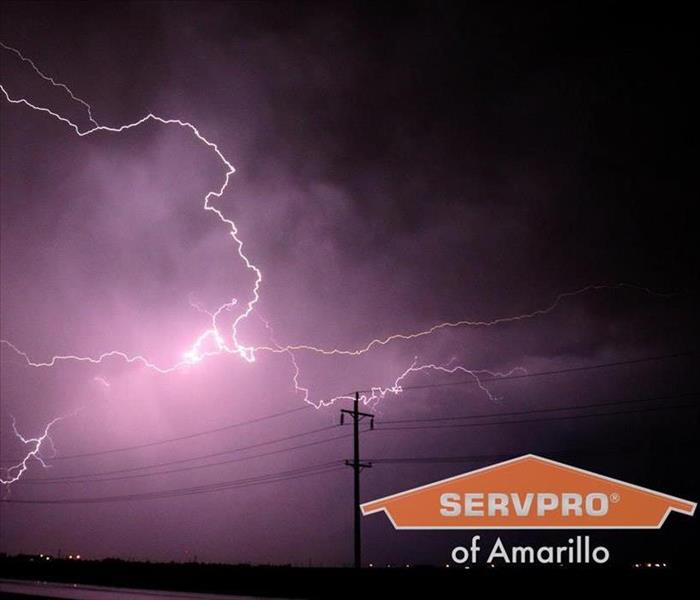 While taking safety precautions before a storm hits can help mitigate some of the loss, you can never completely eliminate the risk of storm damage.
Tornadoes and severe storms have become common across the Texas panhandle, causing severe damage to homes and buildings. While taking safety precautions before a storm hits can help mitigate some of the loss, you can never completely eliminate the risk of storm damage.
If your home has recently sustained damage, you will likely face the following common problems after a storm. Be sure to contact a professional from SERVPRO who can help you with Amarillo Water Damage Restoration.
Water Leaks
Hail Storms and hurricanes often leave homes broken and leaking in their wake. Moreover, prolonged heavy rains, hail, and strong winds can stress the water and sewage lines and even break them.
So, make sure that you check all your lines (especially outdoor lines) after the storm to spot any damage. The best way to detect a leak is by turning off all your home's taps and checking the water meter. Since no water is running around the house, the meter should also stop working.
However, a rise in the measurements indicates that you have a leak somewhere. It's best to leave the repairs to a professional who can inspect and fix the problem ASAP.
Slow Toilet Drain
Persistent rain can cause clogs in the sewer line. This can even lead to flooding in the lines, affecting the toilet drains in your home. The water can rise out of your toilets if the sewer lines get too full.
You will face this issue until the rain stops and the sewer drains appropriately. However, if your toilet drain remains slow even after the rain stops, you must call a professional.
Roof and Structural Damage
No matter how short lived, storms can damage the roof and structure of the house. The roof is one of the most vulnerable parts of the house during storms and will likely sustain the most impact.
High winds can severely compromise the integrity of the shingles installed on your roof. When these shingles break loose, your roof will start to leak, leading to further problems. Also, ice dams are common in winter storms and freezing weather. These ice dams can trap water between the roofs and form layers of ice.
Additionally, hail storms can cause damage to your roof. Unfortunately, this damage won't be visible all the time, so you might have to call for a professional if your roof starts to leak. However, some visible signs can be cracked or dents in shingles, bent roof vents, and pipes.
Furthermore, storms are known to cause flooding, leading to severe risks to your home's structure. The flood can shake the base of your support beam, and your home's foundation can be overwhelmed. If this happens, you need to immediately call for a professional disaster repair team if you experience flooding in your house.
Contamination
Besides damaging the structure of your house, floods can also cause contamination, putting your home at risk of mold growth. Carpeting can also absorb contaminated water and leave behind an awful smell.
Hire SERVPRO Experts to Restore Your Home After Storm Damage
Once the storm is over, let SERVPRO assist you in restoring the home to its original form. You can call us at our Amarillo franchise phone (806) 331-4555 to book our expert technicians today.