How Do SERVPRO Professionals Remove Smoke Odor?
2/10/2022 (Permalink)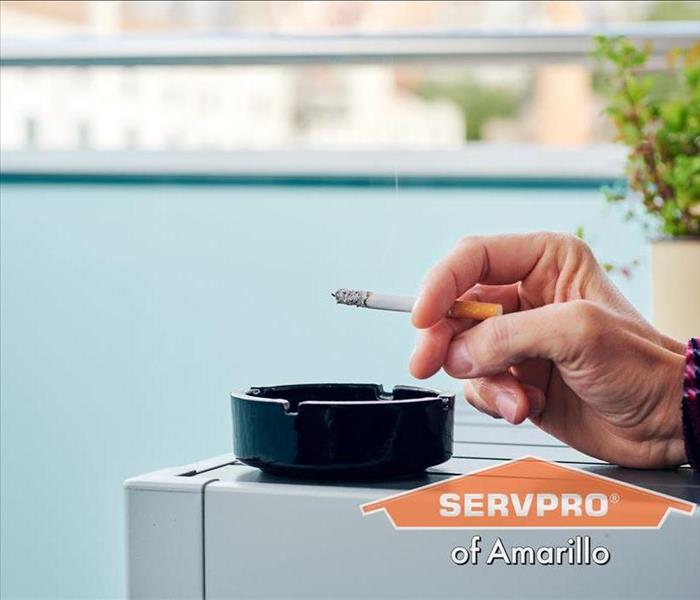 If you need an odor removal service, you can rely on SERVPRO experts to rid your house of any kind of odor.
Fires top the list of the worst things that could happen to a home. Not only do they destroy the structure and belongings irreversibly, but the supplementary hazards can continue to endanger the property for a long time.
Stubborn smoke odor is a detrimental consequence of a home fire since it lingers, compromising the indoor air quality. So, in the unfortunate event that your home is a victim of smoke damage, call in expert help from SERVPRO to get rid of the problem quickly and efficiently.
How Does SERVPRO Efficiently Remove Smoke Odor?
If your house has recently experienced a fire, there will be a smoke odor lingering in your home. However, you don't have to worry about it as our experts will have your back. Wondering how we do it? Here is a little about our process that we would like you to know.
Our 4-step odor removal process is as follows:
Remove the Source
The most crucial step is the identification of the source of the odor. You can't expect to rid the house of the smell of the smoke without eliminating the source. So, we will thoroughly clean your home and rid it of any debris or contamination. Any carpets, bedding, wood flooring, etc., that have absorbed the smell will also be removed from the premises.
Eliminate Residue From Surfaces
Just removing the source of the odor is not enough. There could be odor-causing residues on the surfaces. So our experts ensure that every residue is removed because even if a bit of it is left behind, it will continue to make the home smell terrible. To do that, SERVPRO professionals will clean the affected surfaces and walls with a deodorizing element. This will ensure that nothing in the room will continue to generate smoke odors.
Re-Create Conditions That Caused the Smoke
We trace the smoke's pattern during the odor removal process to determine how it penetrates your home. This part of the process is crucial if the smoke is from a nearby wildfire and not a home fire.
Then, we distribute a deodorizer using that information. Finally, we will create deodorizing smoke or fog to remove the odors effectively.
Seal Surfaces
If any surfaces in your home might still be exposed to the odor, it's time to seal them. If the odor keeps escaping the surface, deodorizers lose effectiveness, and the smell comes back.
This can also be used as a temporary solution at the onset of the odor removal process so that the odor doesn't travel from one room to another.
Why Choose SERVPRO for Home Odor Removal?
We use state-of-the-art technology to serve our clients and help them in the time of their need. Homeowners across Texas count on us for:
24/7 Emergency Service
Regardless of the source, smoke odor can penetrate your home without warning. Dealing with the issue early will help you track it down quickly and prevent it from intensifying.
We want to ensure that you don't have to bear that sickening odor day after day. That's why we offer 24/7 emergency services, so if a severe odor problem lands in your home, you can call us anytime to eliminate it.
Highly Trained Technicians
All our technicians have relevant experience and skills. They are highly trained individuals and have acquired credentials from organizations like the Institute of Inspection Cleaning and Restoration Certification (IICRC).
Our odor removal staff is also bonded and insured, so you know your home is in good hands.
Call Us Today for Professional Odor Removal Asap
If you need an odor removal service, you can rely on SERVPRO experts to rid your house of any kind of odor. Call us at our SERVPRO of Amarillo franchise phone (806) 331-4555, and we will immediately send our technicians to your location for Amarillo Fire Damage Restoration.