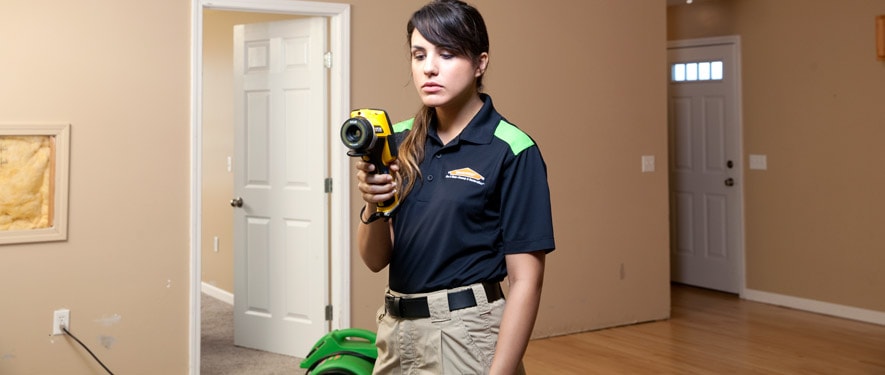 Step 2: Inspection and Water Damage Assessment
Our Water Damage Restoration Process
Assessing Water Damage Repair Needs
Your property is unique and needs a custom protocol to make sure it's taken care of properly. That's precisely what our water damage technicians and managers will create.
Timeline for Amarillo Water Damage Restoration
When You Call
Dispatch. Our technicians start to head your way immediately, with the right equipment in tow to get to work as soon as we step off our vehicle.
Project Coordinator. This person will be your project's primary point of contact, and they are alerted about your situation. If you are filing an insurance claim, they will start your insurance company's communications and documentation process.
ETA: 2-4 Hours
Our response time is the fastest in the industry. Our office is in downtown Amarillo, and we can arrive anywhere in the city quickly. If your property is in the Panhandle, we will still dispatch immediately and give you a time of arrival based on traffic and weather conditions.
Identify and Stop the Water Source
We will check for the source of moisture in your home or business. The source must be stopped before any restoration or drying of the building can be successful.
Stop the Source
Check for Contaminated Water
Identify the Type of Water
We will identify the category and classification of water damage to ensure our professionals restore your property based on industry guidelines. The level of contamination of the water will affect the specific restoration processes we use.
Category 1: "Clean Water"
Category 2: "Gray Water"
Category 3: "Black Water"
Survey the Extent of the Water Damage and Inspect the Premises
We inspect and test to determine the extent of damage and how far the moisture has traveled to ensure proper and complete restoration. In addition, we will inspect for safety concerns that may be evident. If there are any safety issues like lead or asbestos, please bring them to our attention.
Survey Damage
Complete Safety Inspection
Move or Block Furniture
We move furniture and property contents and block items to help prevent rust or furniture stains on wet carpet.