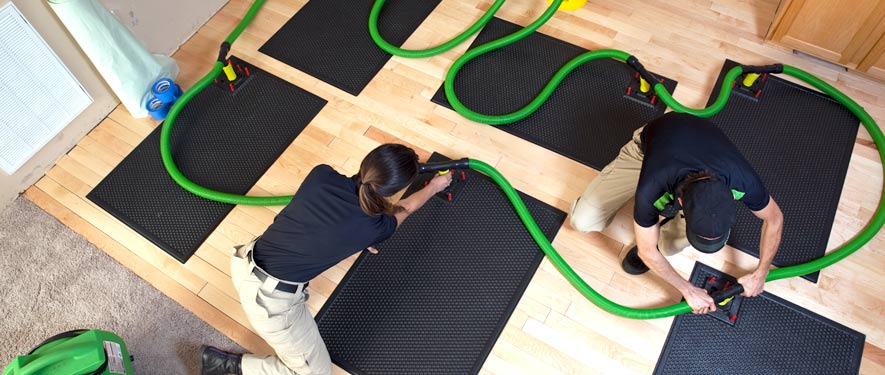 Step 4: Drying and Dehumidification
Our Water Damage Restoration Process
Drying After Water Extraction
The importance of correctly drying a property with water damage can't be underestimated. Many of the mold damage remediation requests we receive are a result of DIY water mitigation efforts that didn't include proper drying.
Drying your property is what we are experts at. Contact us today for help.
Professional Drying During Water Damage Restoration
After we extract all standing water, including the hidden pockets behind walls and underneath floors, we start the drying process of water damage restoration. We follow IICRC standards, the industry standard for professional restoration companies. This includes:
Setting professional equipment. This includes industrial air movers and dehumidifiers to control air movement and trap excess moisture. Larger properties may require using a desiccant.
Moisture Detection Equipment. We use the most advanced equipment to detect hidden pockets of moisture and make sure each area is addressed.
Daily Monitoring. Our drying process is validated with data. We take atmospheric and moisture readings to make sure our drying protocol is working to plan. Our data is turned into our clients' insurance company to prove the success of our process.
Complimentary Water Mitigation Estimates
Contact us today to chat with one of our water damage restoration experts. We're happy to provide you with guidance and a free estimate.
The SERVPRO Water Damage Drying Process
Drying / Dehumidification
Our Professionals will use room measurements, temperature, and relative humidity to determine the optimal number of air movers and dehumidifiers to dry your home or business. We'll carefully monitor the progress using moisture meters until the materials return to acceptable drying goals.
Use Dehumidification Equipment
Use Monitoring Equipment to Track Progress
Monitor Floor and Walls
We check the moisture levels to monitor the drying process. 
Monitor Floors
Monitor Walls
Drying Equipment
Industrial-grade dehumidifiers help prevent secondary water damage like swelling and warping of floors, walls, and furniture.
High-speed air movers create airflow across walls, carpets, pads, and furniture, which accelerates the evaporation of moisture.